Weight Loss In Carbondale IL

What is ChiroThin and how does it work?
The ChiroThin formula by ChiroNutraceutical is a natural dietary supplement. It contains a host of nutritional ingredients that are well known to aid in fatty acid transportation, fatty acid metabolism, blood sugar stabilization, increase in metabolism and detoxification. When combined with a healthy and specific amounts and blends of low glycemic index, anti-inflammatory foods, your body will be more efficient at converting stored fat into energy. In general, ChiroThin allows the body to more efficiently metabolize fat and use it as energy when an individual consumes less calories than they burn in a given period of time. ChiroNutraceutical has specifically designed the ChiroThin formula to include specific amounts of amino acids, vitamins and cell salts for additional added benefit. Additionally, the ChiroThin Weight loss program included dietary and behavioral modification guidance as well as a strategy, that when followed, helps provide for a long term weight loss.
Dan lost 33 lbs and 29 inches in 42 days!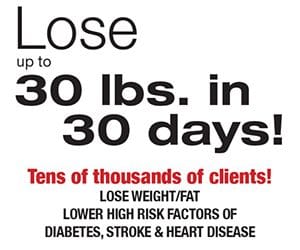 Our all-natural nutritional support formula allows your body to tap the stored fat in your body. The calories in the fat gives you the energy that you need so that you can lose weight without starving!
The average person loses 7-15 pounds in the first 10 days!
The next thing you know, people are saying how great you look and your clothes (but not your skin) are looser.
Why? Because with ChiroThin, unlike many other programs, you are losing fat and excess water, not muscle. Within 2-3 weeks of starting ChiroThin your coworkers, friends, and neighbors will be amazed at the difference and ask you what you are doing to lose the weight so quickly.
By the time you're done with this program, you will have lost a lot of weight and many inches of fat! Additionally, you will have the tools to make the weight loss long term. This is why so many people don't game the weight back – even years later!
These statements have not been evaluated by the United States Food & Drug Administration. These products are not intended to diagnose, treat, prevent, or cure any disease.
Monday
8:00am - 12:00pm
2:00pm - 6:00pm
Tuesday
8:00am - 12:00pm
2:00pm - 6:00pm
Wednesday
8:00am - 12:00pm
2:00pm - 6:00pm
Thursday
8:00am - 12:00pm
2:00pm - 6:00pm
Friday
Closed
Saturday
Closed
Sunday
Closed